Over my time off during the Christmas/New Year's break, as well as doing a lot pf painting, I also traditionally try to play through a videogame that I've been meaning to get to for awhile. On Black Friday, I purchased an XBox One X and a PS4 Pro, followed by a 4k TV on the following day, but with life events snowballing in the subsequent timeframe I didn't set them up until a couple of days before Christmas.
I was thinking about finally playing Horizon: Zero Dawn since I was holding off on it until I got the Pro, or Assassins Creed Origins on the X. So what have I been playing?
W.T.F?
Well, it was a game I picked up when Marouda and I first got our (regular) XB1s so we could play the co-op. There wasn't a huge library at the time, and it seemed intriguing. Because Gladiatorial fights are awesome. In fiction, anyway. Not quite so awesome for the actual participants. (I should probably get around to watching that Spartacus TV series, I guess.)
In many ways, the game is absolutely beautiful. I mean, it's clearly not running at 1080p (900p!), but the design and environment is a lovingly designed facsimile of ancient Rome. Unfortunately, the framerate is horrible – so bad that I needed to stop playing every few minutes because it just runs terribly. Unless it runs worse on the XB1X? That's possible, I guess, though I was hoping for a performance boost, if anything. Unfortunately, during fast movement, it's janky as fuck. I haven't played a lot of fast action games on this setup yet where the environment moves quickly, but I have played a few (on PS4P) and they don't suffer in the same way, and the TV is a 100hz refresh rate model with a game mode, so I doubt the problem is there.
I mean, despite the low resolution and janky framerate, I still constanly wanted to stop and admire the scenery. Except it was janky, and therefore unpleasant to do, and the game basically wants you to RUN your way through the beautiful "corridor" path.
Combat was surprisingly decent. It's not especially nuanced, but I found it enjoyable enough in it's simplicity. Block being mapped to A (X on PS) threw me off for awhile since the combat feels inspired by Arkham, so I kept wanting to hit Y (Triangle on PS) to block, which resulted in me doing a lot of shield blows and getting whacked a lot. I've read that on higher difficulty levels that it becomes more challenging as enemies become more difficult, but that's different to more nuanced. It's not a deep combat system is what I'm saying.
The "Executions" that come up frequently provide a method of refilling your health bar, or giving you some bonus exp, or refilling your focus bar (I also continued to struggle with the similarities and differences from the Batman/Mordor buttons, probably due to some muscle memory). The executions continue to go off even when you choose the wrong colour from the very simple "Simon Says" prompts, and the canned executions start to be a bit tedious after you feel like you've seen the few on offer 10,482 times. Still, the combat system remains simple fun for the most part.
What is not fun is anything outside of the core swordplay. Throwing pilum is terribly clunky and there are segments of the game where it REALLY WANTS you to throw pilum. Since I didn't find that fun and wanted to stab the barbarians instead, I found myself at odds with the game on a couple of occasions where it punished me for that choice. There are also some points where the game wants you to throw pilum while dodging arrows. Also not fun. At all. A good example where a design document overrides good execution. On that same note, using Scorpion ballistae provide the game's turret sections – something that I actually often do find fun in games despite their formulaic nature. Not here, though. Loose controls and poor visual feedback make them once again, something to endure until you can get to the next stabby sequence. Oh, and there's Kinect-voice sequences scattered throughout the game, where you can either bark out orders to your Kinect to have archers fire or whatever, or hold the LB button for a *really* long time. I do actually have a Kinect, which I got for Marouda in one of our initial machines because Just Dance, but it hasn't been used in a couple of years now probably, and the XB1X doesn't even support the thing without a special adapter. Which I do have here, but I'm hardly going to connect the thing up just for shouting at the odd sequence in this game.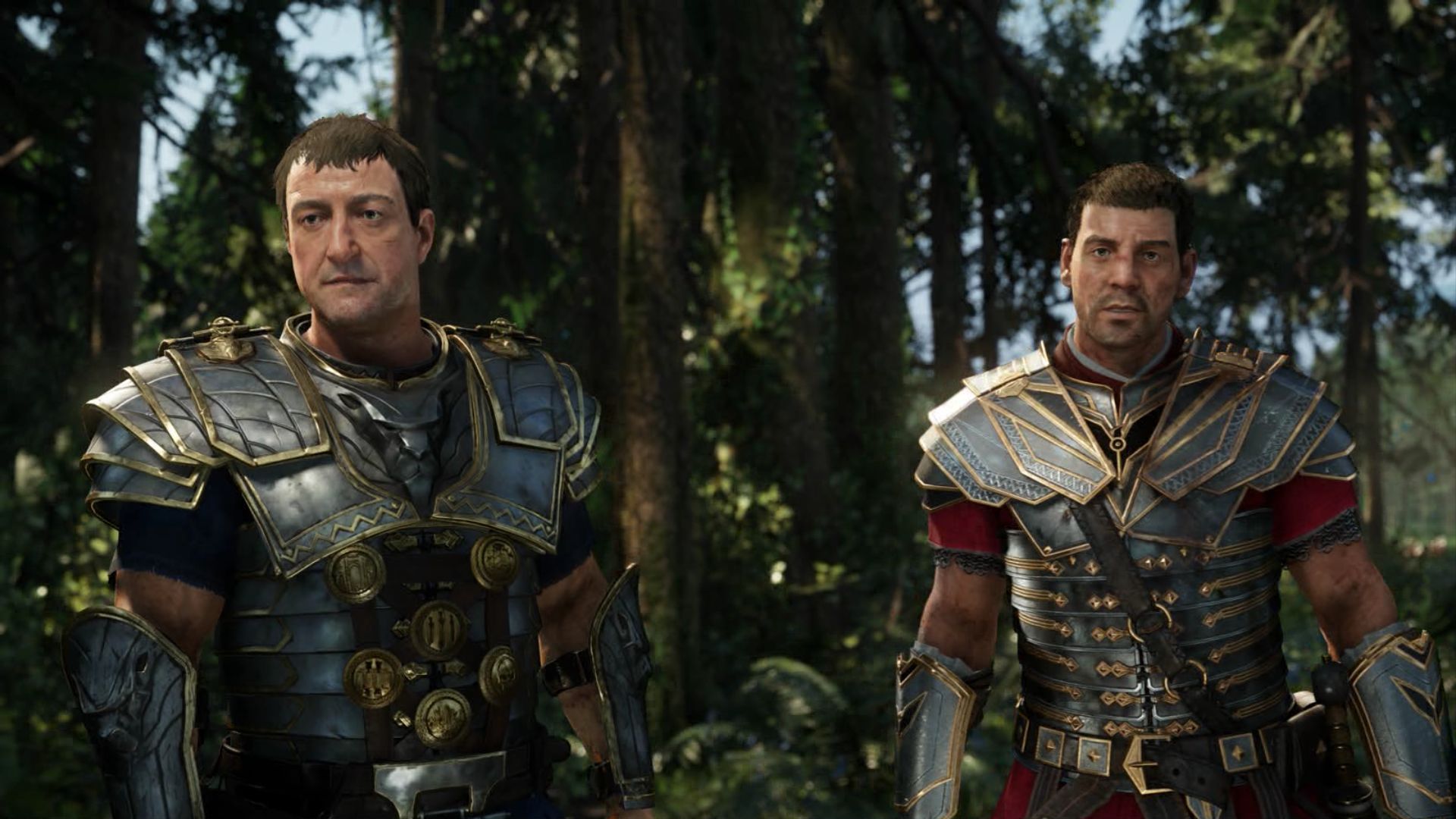 The story is… well, it's a story at least. It's not the best videogame story I've played through, but it's far from the worst. I mean, it's *there*. It's an incredibly predictable revenge story, presumably written for twelve-year-olds who can't understand any other motivation besides revenge, "duty" and "honour". As a snarky aside, I had no idea it was so easy to swim while wearing a Lorica Segmentata, but then, I've never tried it myself, so what do I know? I don't think it's too spoilerific for a 2013 game to mention that the game attempts to add in a "Normandy Beach Landing" sequence, and while it again looks good, the devs clearly chose cinematic over gameplay. But as can be expected from "2013 videogame", the treatment of history is a right mess. To be fair it's no worse than, say, Braveheart, though I was disappointed by the game's initial milquetoast treatment of Bodicia followed by her ridiculously over-the-top later depiction. I'm surprised that they didn't throw Hannibal into the mix as well, although, they kinda did… On a brighter note, the cinematics are very well done indeed, as are the facial models and animation. No Mass Effect Andromeda "my face is tired" mannequins here at least!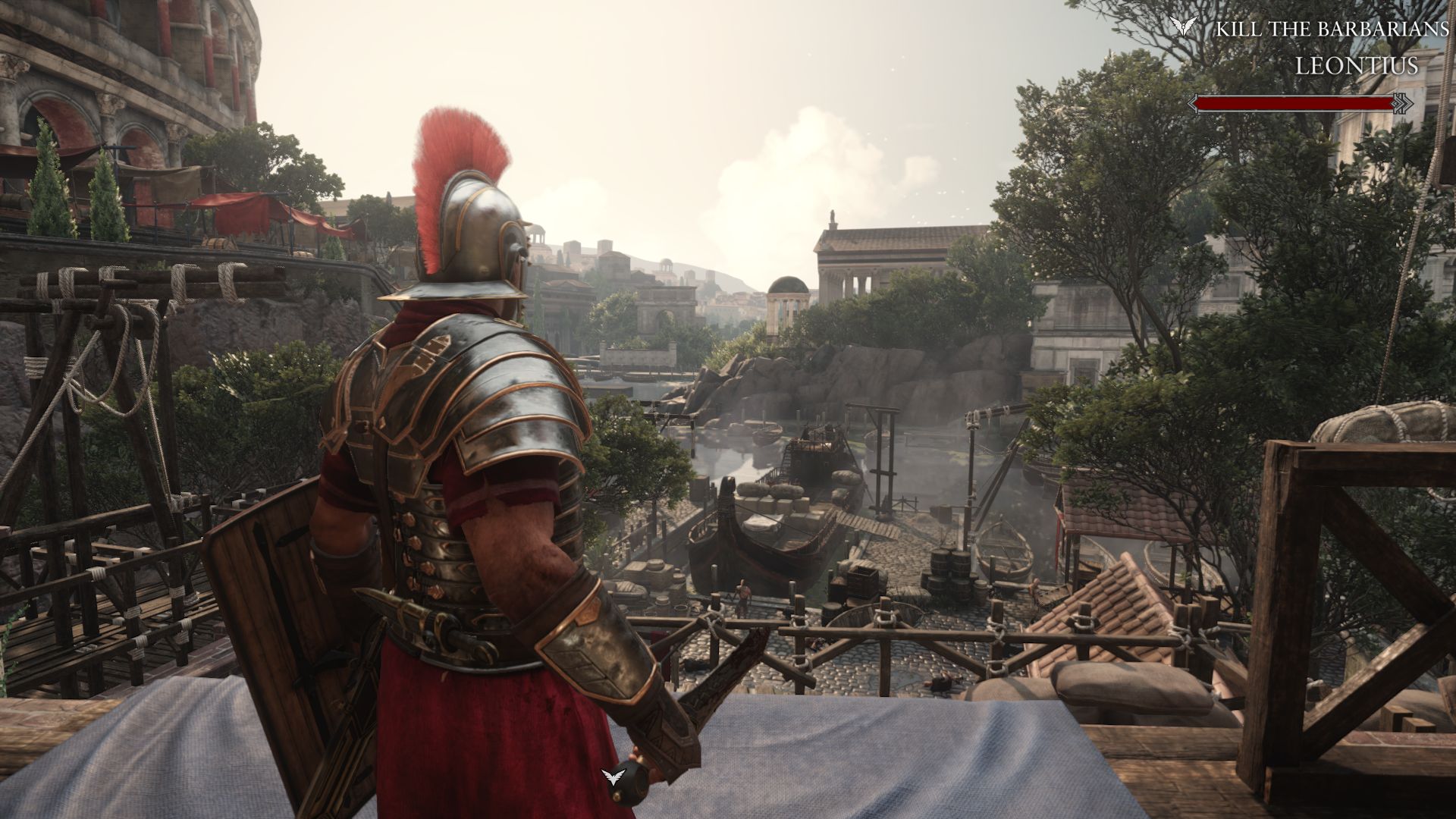 Now this might sound rather nit-picky, and perhaps it is, but I really would have liked the camera to be a little further back from your character as you play through the campaign. This is – again – because the environments are so nicely put together and executed, but your character (well-rendered as he is) blocks much of the scenery as you move through the game, and with the camera so low, it further amplifies this. I guess it *does* work to reduce the draw distance required to render. While it's true that the player model's size looks awesome in stills, it does restrict your view of these beautifully realised environments. Really though, I'd love to see a sequel or remake of this game using today's technical know-how (yeah, I know it's only a 2013 release, but in the past 4 years, devs have *really* learned to optimise this generation's machines compared to launch titles!) Back to the remake point – it just seems a waste that all of these beautiful art assets were essentially wasted on this game, which does have it's moments of fun, but was by no stretch of the imagination a commercial success.
Naturally, the game has a whole bunch of pick-up collectables of different types scattered around the stages. They don't really do anything of note or interest as far as I can see, but after I figured out that they're there after a little while I did attempt to collect any that I saw. One annoying thing about this is that there are quite a few places in the game where the path forks, and it's not immediately obvious which one has the collectable in it and which one continues the story. These paths are often followed by, say kicking in a gate or vaulting a fallen tree or pillar. That's fine, but when it then becomes obvious that the path you chose was the "story path" while the collectable was the *other* way, the game often then does not allow you to backtrack to get the pickup. I know it's a memory/area loading limitation on one hand, but it's poor level design on the other.
Oh, and there's also multiplayer. Most types are co-op gladiatorial battles, though you can also go in solo. I think that might have been one of the draws of this game initially – the idea of playing co-op gladiators with Marouda. I doubt that the combat system would be for her, though – we played it a couple of times back when we first got the game, but, well, clearly it never stuck. There's a solo mode, but frankly, I don't have the time nor inclination to grind through it. It was also a lovely surprise to see that multiplayer features loot boxes for gear, bought with "gold", a currency that can be earned in-game, albeit slowly – or purchased for real monies though the XBox store. Legislation can't come fast enough.
To sum up. I actually kind of enjoyed Ryse – in spite of itself. The fact that it's quite a short game helped it not to outstay it's welcome, since the simple, repetitive melee combat isn't especially great, and the non-melee aspects of gameplay suck hard. The art direction and graphic quality (when the background wasn't moving much) were outstanding, despite the relatively low resolution and janky framerate, and also despite a trite and predictable story, the cinematics actually managed to add more then take away from the experience. Again, this was helped by the fact that it's quite a short game, and the fact that I'm a fan of the Ancient Roman theme (despite the game's mangling of actual historical events). I played it on Easy, and have no regrets about having done so. I experienced all I wanted to from the game, and so I'm happy enough – having played it's short campaign in short sessions over about four days. I wouldn't advise purchasing it, unless it was on deep, deep discount, but I believe it was an XBLG freebie some time ago (I didn't need my disc to play!) so if it's sitting in your library, it might be worth the few hours' investment to experience.
Rating: 5/10 – Thoroughly Mediocre! (Yet, kinda worth playing)
Now. Do I play Horizon, or AC Origins, or finish something half-done like Wolfenstein: The New Order – or repeat the mediocre-but-fast game experience by playing through The Order: 1886?
Hmmm…